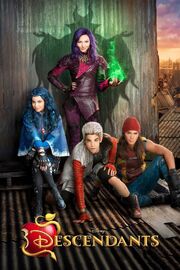 Descendants is a Disney Channel Original Movie starring Dove Cameron, Cameron Boyce, Sofia Carson, and BooBoo Stewart, that aired on July 31, 2015.
Plot
In a present day idyllic kingdom, the benevolent teenaged son of the King and Queen (Beast and Belle from Disney's iconic Beauty and the Beast) is poised to take the throne. His first proclamation: offer a chance of redemption to the trouble-making offspring of Cruella De Vil, Maleficent, The Evil Queen and Jafar who have been imprisoned on a forbidden island with all the other villains, sidekicks, evil step-mothers and step-sisters.
These villainous descendants are allowed into the kingdom to attend prep school alongside the offspring of iconic Disney heroes. However, the evil teens face a dilemma: should they follow in their nefarious parents' footsteps and help all the villains regain power or embrace their innate goodness and save the kingdom?
Cast
The following is the known list of characters appearing in the film, or at least mentioned. The following are also listed as those who are known to have children appearing in the film, though their names and gender may be unknown.
Videos