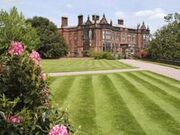 Evermoor is a 4 part series  shown on Disney Channel. It is being made specifically for Disney Channel (UK & Ireland)
Plot
A 14-year-old girl moves into beautiful but spooky Evermoor Manor, where she discovers a magic tapestry which seemingly predicts the future.
Trivia
It is filmed in Arley Hall.
It is due to be shown in 160 countries.
It is the first ever UK production to be made by Disney.
Some of the cast have already been on various CBBC shows.
Cast
Naomi Sequeira as Tara Crossley
Georgia Lock as Bella
Georgie Farmer as Jake
Finney Cassidy as Cameron
George Sear as Seb
Jordan Loughran as Sorsha
Gallery
☆★To see an Evermoor/Gallery, click here ☆★