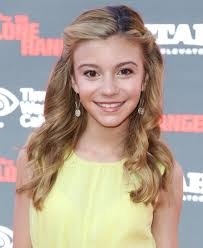 Genevieve Knight Hannelius(born December 22nd, 2002),better known as G. Hannelius is an American teen actress and singer from Boston, Massachusetts. She has played the role as Emily in Den Brother, a Disney Channel Original Movie also starring Hutch Dano. Genevieve Hannelius currently portrays Avery Jennings on Dog With a Blog. She will be starting a Disney Channel Show called Twin Forever she will be the role of Skylar and Mary it will be here in 2016.
Early Life
Genevieve was born on the 22nd of December in 2002 in Boston, Massachusetts. She moved to Southern Maine at the age of one, in 2003. Genevieve started acting at a very young age. Her theater roles included Madeline in Madeline's Rescue and Jenny in Tales of a Fourth Grade Nothing with Musical Theater. She lived in Calfornia for three months at the age of three or four for auditions. In 2008, when she was 6, Genevieve successfully made progress and amazed lots of people. Therefore, her family decided to move to Los Angeles,CA.
Career
G. Hannelius played Courtney Patterson on Surviving Suburbia. She had a recurring role on Sonny with a Chance, a Disney Channel Original Series, as Dakota Condor. Genevieve has also played Jo Keener in Good Luck Charlie and a crazed fan in Hannah Montana. Hannelius was the voice of Rosebud in the 2011 movie, Spooky Buddies. In the summer of 2005, she played Madeline in the Children's Theater of Maine's production of Madeline's Rescue. She is an alumna of the Los Angeles based Young Actors' Studio. In April 2011, G. realeased her first ever songs, "Staying Up All Night" and "Just Watch Me" on iTunes. She is currently an unsigned artist.
Discography
2011: Staying Up All Night
2011: Just Watch Me
2011: Two In A Billion
2012: Paper Cut
2012: Sun in my Hands