Hannah Montana is an Emmy Award-nominated American television series, which debuted on March 24, 2006 on Disney Channel.
The series focuses on a girl who lives a double life as an average teenage school girl named Miley Stewart (played by Miley Cyrus) by day and a famous pop singer named Hannah Montana by night, concealing her real identity from the public, other than her close friends and family.
Production
Michael Poryes, who is credited as co-creator, also co-created the hit Disney Channel Original Series That's So Raven. The show is produced by "It's a Laugh Productions, Inc.", in association with Disney. It is filmed at Tribune Studios in Hollywood, California. The series premiere scored record ratings for Disney Channel: 5.4 million viewers, a response "beyond our wildest expectations," according to the president of Disney Channel Entertainment.[1]
The original idea for this show was based on the That's So Raven episode "Goin' Hollywood", which was supposed to be the pilot episode for a sitcom called Better Days, in which a child star of a popular TV show of the same name was to try her hand at going to a normal school. The episode "New Kid in School" has the basic premise as that aforementioned episode. Other names considered for the title were The Secret Life of Zoe Stewart (discarded as too similar to Zoey 101 on Nickelodeon), The Popstar Life!, and Alexis Texas.
Former American Juniors finalist Jordan McCoy and pop and R&B singer JoJo (who rejected the role)[2] were considered for the role of Zoe Stewart. Miley Cyrus originally auditioned for the role of the "best friend"[3] Lilly Romero, later changed to Lilly Truscott, but they thought she would be better for the main character, so she tried out for Zoe Stewart/Hannah Montana. Zoe Stewart was later changed to Chloe Stewart, which was eventually changed to Miley when she got the part. The names of Hannah Montana were changed a few times. Three of the previous names were Anna Cabana, Samantha York, and Alexis Texas.
In December 2006, Disney announced plans to release Hannah Montana products, including: clothing, jewellery, apparel, and dolls, at select stores. [4] Play Along Toys released the Hannah Montana fashion dolls, singing dolls and Miley Stewart doll, and other merchandise in August 2007. More Hannah dolls were released in November, along with Oliver, Lilly, and later Jake Ryan dolls. They became one of the most popular Christmas toys in 2007.[5] Hannah Montana is signed for at least one more season according to Disney Channel. Filming for the second season started in December. The new season started in April, 2007, in which she is in high school.[6]As stated by Jason Earles at the launch of the High School Musical 2 Extended Edition DVD, filming of the second season has finished.
By February 2008, the Hannah Montana franchise had become so important that Disney convened an "80-person, all-platform international meeting to discuss Hannah Montana's future."[7] All Disney business segments were represented at the meeting.
Cast
Main
Recurring
Shanica Knowles: Amber Addison (2006-2009) 12 episodes
Anna Maria Perez de Tagle: Ashley Dewitt (2006-2009) 12 episodes
Romi Dames:Traci Van Horn (2006-)
Dolly Parton: Aunt Dolly (2007-2009)
Vicki Lawrence: Mamaw Ruthie (2007-2009)
Frances Callier: Roxy (2007-2008)
Cody Linley: Jake Ryan (2006-present)
Selena Gomez: Mikayla (2006-)
Morgan York: Sarah (2006-2009)
Greg Baker: Mr. Corelli (2006-2007)
Noah Cyrus: Little Girl (2007) 1 episode
Popularity
In addition to the high ratings of the TV series, concerts for Hannah Montana have also been exceedingly popular. Tickets for every concert sell out, with some later being scalped for thousands of dollars.[8] The shows attract much attention, with an example being the attendance of Illinois governor Rod Blagojevich who later admitted to having watched every episode.[9]
Guest appearances
Corbin Bleu: Johnny Collins (2: "Lilly, Do You Want to Know a Secret", "We're All on This Date Together")
Paul Vogt: Dontzig (4: "Miley Get Your Gum", "Torn Between Two Hannahs", "Bad Moose Rising", and "The Idol Side of Me")
Ashley Tisdale: Maddie Fitzpatrick (1, "On the Road Again")
Lisa Arch: Liza (2: "You're So Vain, You Probably Think This Zit is About You" and "Smells Like Teen Sellout")
Brooke Shields: Susan Stewart (2: "I Am Hannah, Hear Me Croak" and "The Way We Almost Weren't")
Larry David: Himself (1: "My Best Friend's Boyfriend")
Madison Pettis: Sophie Martinez (1, "Take This Job and Love It!")
John D'Aquino: President Richard Martinez (1, "Take This Job and Love It!")
Jesse McCartney: Himself (1: "When You Wish You Were the Star")
Donny Osmond: Himself (1: "We're All on This Date Together")
Ray Romano: Himself (1: "We're All on This Date Together")
Jonas Brothers: Themselves (1: "Me and Mr. Jonas and Mr. Jonas and Mr. Jonas")
Dwayne "The Rock" Johnson: Himself (1: "Don't Stop 'Til You Get the Phone")
Heather Locklear: Heather Truscott (1: "Lilly's Mom Has Got It Going On")
Joey Fatone: Joey Vitolo (1: "Bye Bye Ball")
Juliette Goglia: Angela Vitolo (1: "Bye Bye Ball")
Karina Smirnoff: Madame Escajeda (1: "Everybody Was Best-Friend Fighting")
David Koechner: Uncle Earl (1: We're So Sorry (Uncle Earl))
Vicki Lawrence: Mamaw Ruthie Stewart (2: "Grandmas Don't Let Your Babies Grow Up to Play Favorites", "I Will Always Loathe You")
Anita Finlay: Jeanette Harris (1: "Test Of My Love")
Opening sequence
The theme song for Hannah Montana is "The Best of Both Worlds" written by Matthew Gerrard and Robbie Nevil, produced by Gerrard and performed by Miley Cyrus (as Hannah Montana). John Carta, who also composes the music cues to signify scene changes and commercial breaks, composed the music for the song. The song's lyrics describe the basic premise of the television series.
The full-length version, which is 2 minutes, 54 seconds in length, was included on the show's soundtrack, released in October 2006. For the TV version of the theme, which lasts only 50 seconds, only the first two stanzas and the last two were used.
"Just Like You" and "The Other Side of Me" were originally tested for the opening theme song, before "Best of Both Worlds" was chosen as the theme. Stage and features episode clips of each cast member when each cast member's name appears. Each cast member's name is "wiped" on the screen in a marquee-light-style. The sequence then switches to full-screen episode clips (most of the clips used in the Season One version of the sequence were of the early produced episodes) with the creator's names appearing in the second-to-last clip. The show's title logo design appears at the beginning, and again at the end, of the sequence (the latter portion as with most other portions of the sequence on the "concert stage" feature Cyrus as her character Hannah Montana).
Lawsuit
On August 23, 2007, Buddy Sheffield, a comedy writer who wrote for The Smothers Brothers Show, The Dolly Parton Show, and In Living Color, sued Disney over Hannah Montana alleging that he originally came up with the idea for Hannah Montana but was never compensated by Disney. The lawsuit claims breach of contract, breach of confidence, unfair competition and unjust enrichment. In the lawsuit, Sheffield claims that he pitched an idea for a TV series with the name of "Rock and Roland" to Disney Channel in 2001 with the plot of a junior high student who lived a secret double life as a rock star. The lawsuit claims that Disney Channel executives at first liked the idea but passed on the series. Sheffield claims that he deserves a share of the revenue generated by Hannah Montana.[10]
Episodes
Main article: List of Hannah Montana episodes
Season
Ep #
First Airdate
Last Airdate
Season 1
26
March 24, 2006]
March 30]], 2007
Season 2
30
April 23, 2007
2008
Season 3
2008
Films
Hannah Montana & Miley Cyrus: Best of Both Worlds Concert
Hannah Montana & Miley Cyrus: Best of Both Worlds Concert is a musical documentary film from Walt Disney Pictures presented in Disney Digital 3-D. The limited release was intended to be for one week, February 1-7, 2008 in the US and Canada with release in other countries later on,but was extended for viewing as long as theaters wanted. Disney recently announced the concert was filmed in several cities to be theatrically released upon the US in February and internationally throughout the month. The film uses 3-D glasses.
Hannah Montana: The Movie
Hannah Montana: The Movie has been confirmed by many of the stars from the show. It will not be a Disney Channel Original Movie, but will instead follow in the steps of the Lizzie McGuire series, which is a feature-length film released in cinemas. Filming was scheduled to take place May 2008, and should be released in May 1, 2009.[11] Oprah Winfrey also confirmed on her show on November 21, 2007 that a film was in the works.
Songs
Main article: List of Hannah Montana songs
Soundtracks
Nominations and awards
2007 Creative Arts Emmy - Outstanding Children's Program (Nominated)
2007 Winner of the "Choice TV Show: Comedy" for the Teen Choice Awards[12]
Winner of the 2006-2007 Golden Icon Award (presented by Travolta Family Entertainment) for "Best New Comedy".[13]
DVD releases
Volume 1: Living the Rock Star Life
(released October 24, 2006)
Special Features:
Miley Cyrus Exclusive Interview on Following Your Dreams
Miley's Audition Tapes
"The Best of Both Worlds" music video
Note: This DVD is known in Region 2 as Hannah Montana: Behind The Spot Light. The DVD released in March 23, 2007.[14]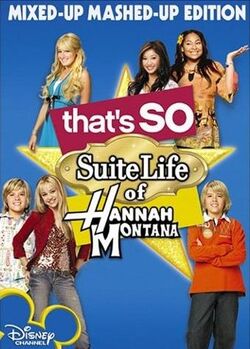 (released January 16, 2007)
On the Road Again (Hannah Montana episode)
Special Features:
"Who Said" Music Video (Hannah Montana Bonus)
(This DVD also included another episode from "That's So Raven" and another from "The Suite Life of Zack and Cody". All three episodes were related and had crossovers amongst each other)
Volume 2: Pop Star Profile
(released June 26, 2007)
This DVD features the first four episodes featuring Jake Ryan.
Special features:
Volume 3: Life's What You Make It
(released October 9, 2007)
"Achy Jakey Heart, Part 1
"Achy Jakey Heart, Part 2
"I Want You to Want Me ... To Go to Florida
Special Features:
Hannah Montana Backstage Pass
"Ready, Set, Don't Go" music video by Billy Ray Cyrus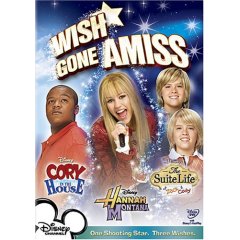 Wish Gone Amiss
(released November 27, 2007)
"When You Wish You Were the Star" (Hannah Montana episode)
Special Features:
"I Wish I May, I Wish I Might: A Guide to Making Wishes" hosted by Jason Earles of Hannah Montana. (Hannah Montana Bonus)
(*This DVD also included episodes from The Suite Life of Zack and Cody and Cory in the House which also held the theme of "Wishing Upon a Star")
Volume 4: One in a Million
(released January 29, 2008)
"Lilly's Mom Has Got It Goin' On"
"Me and Mr. Jonas and Mr. Jonas and Mr. Jonas"
"I Will Always Loathe You"
"That's What Friends Are For?"
Special Features:
That's So Raven episode "Run Raven Run"
"Come Feud with Me" - The top 10 Disney Channel feuds
"One in a Million" music video
"True Friend" music video
(to be released August 19, 2008) Recalling the successful theatrical gimmick, the home video releases are vowed to be sold "for a limited time only". It will be on Blu-ray and Disney DVD and will be in 3-D, which is a first for a Blu-ray release.
Special Features:
The Ultimate Personal Tour - Hang Out with Miley Cyrus and the Jonas Brothers during the tour
Sing-Along Mode
Additional songs not seen in theaters: "Pumpin' Up the Party" and "Right Here".
Miley Cyrus - "Good and Broken" music video
Jonas Brothers - "S.O.S." music video
Hannah Montana: The Complete First Season
(released November 18, 2008) This is a DVD box set with every episode from season one of the mega-hit tv show.
Special Features:
Watch an exclusive video tour of Miley's hometown.
Tons of cool guest stars.
Much more.
Video games
Hannah Montana: Spotlight World Tour
Hannah Montana: Music Jam
Hannah Montana DS
Dance Dance Revolution Disney Channel Edition
Hannah Montana in pop culture
The show itself references the show. In the episode "We're So Sorry, Uncle Earl", Jackson changes the channel from Are You Dumber Than a Dog? to a show where we hear "The Best of Both Worlds", complaining "Oh, when is this show not on?!"
The Simpsons have made a reference to Hannah Montana. In a December 16, 2007 episode entitled "Eternal Moonshine of the Simpson Mind", Bart writes (on the blackboard) "The capital of Montana is not Hannah."
Miley Cyrus has performed on Good Morning America, Larry King Live, The Tonight Show with Jay Leno ,The Ellen DeGeneres Show, The Oprah Winfrey Show and Live With Regis and Kelly as Hannah Montana.
On the December 26, 2007 episode of Wheel of Fortune, one of the puzzles was "BUTTE & HANNAH MONTANA".
During the episode of Drake & Josh, "Battle of Panthatar", Josh watches a TV program called "Suzannah Louisiana" which is a spoof of Hannah Montana. The theme tune, "The Best of Both Worlds", is heard.
During the episode "Dare Devil" of Gossip Girl in Blair Waldorf's penthouse while Jenny is changing Blair tells her "Too Hannah Montana".
During an episode of True Life "I have Tourette's", in Alyssa's house an episode of Hannah Montana is being shown.
During The Game Plan Joe Kingman accidentally turns to Disney Channel and "The Best of Both Worlds" is heard.
During the film Bridge to Terabithia, when Jess goes into his house, his sisters are watching Hannah Montana in the background, the episode of which is "She's a Super Sneak"
During MADtv's 13th Season in Episode #1310, a spoof was made about the Hannah Montana Show. However, since MADtv did not have the right to copy anything under Disney's name the banner of Disney Channel was renamed into Kids channel and no songs from any of the Hannah Montana Soundtracks were parodied.
On the May 1, 2008 episode of the Philippine version of Wheel of Fortune, one of the toss-up puzzles was "HANNAH MONTANA"
The South Park episode "Britney's New Look" makes a reference to Hannah Montana by declaring her the next victim to be sacrificed at Harvest after Britney Spears.
See also
Cite error: <ref> tags exist, but no <references/> tag was found