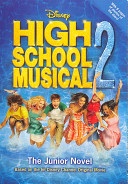 High School Musical 2: The Junior Novel is a book for the second movie of High School Musical. It was written by N.B Grace and published by Disney Book Publishing Inc.
Summary
Goodbye, classroom! Hello, summer! But for Troy, Gabriella, Chad, and Taylor, this vacation is no day at the beach; they're all working at a country club founded by none other than Ryan and Sharpay's grandfather! And with the club's annual Midsummer Night's Musical right around the corner, Sharpay's competitive instincts are sizzling. If she can manage to win the Star Dazzle Award just one more time, the country club will name it after Sharpay, and it will be hers forever. But this year, Sharpay faces some tough competition-Gabriella! To have any hope of coming out on top, Sharpay knows that she'll need a secret weapon. She dumps Ryan and starts wooing Troy to be her new partner. Gabriella is less than thrilled that Troy has fallen under Sharpay's spell. How could he do that to her? Things are heating up on the lawns of high society. Will Troy and Gabriella realize that they're meant to be? Or is it already too late for them to sing one last song together?
Ads
In the back of this book, there are adverts for High School Musical 2, the Hannah Montana Books and Radio Disney.