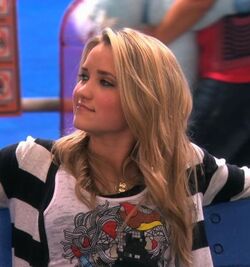 Lilly Truscott (Emily Osment) is the best friend of Miley Stewart and girlfriend to Oliver Oken on seasons 3 and 4. She is one of the main characters from Disney Channel's television series, Hannah Montana.
Under the alias Lola Luftnagle, and also "Lola LaFonda." She is also close friends with Hannah Montana and part of her entourage. Lilly/Lola has a huge crush on Orlando Bloom in the episode "The Test Of My Love", and tells Miley that she will see "the Lilly Bloom" when Orlando finally meets her. She also plays a central role in the film Hannah Montana: The Movie.
Lilly is a huge fan of Hannah Montana even before she learns Miley's secret. She is extremely extroverted, excitable, clumsy, and impulsive. She is also very athletic and loves skateboarding, surfing, hockey, and cheerleading. She's considered the tomboy with a sweet, kind, and optimistic personality.