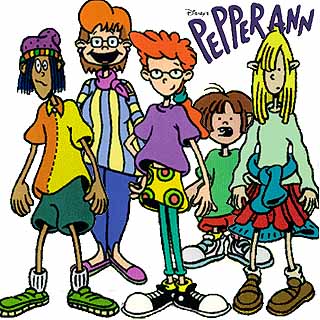 Pepper Ann was an animated series created by Sue Rose and produced by Walt Disney Television Animation. The show aired on the Disney's One Saturday Morning block on ABC from 1997-2000 along with shows like Recess and Disney's Doug.
It led the way for other Disney Shows like Lizzie McGuire, That's So Raven, Hannah Montana, and Shake it Up!.
Production and Airing
The character was originally created for a monthly comic strip in YM magazine in 1991. Sue Rose decided to make it into a show in 1995. Upon buying ABC in 1996, Disney decided to produce a new Saturday Morning cartoon block with new shows. Around that time, Sue Rose, the show's creator, was busy pitching the show to Nickelodeon, who rejected it for an unknown reason.
She decided to pitch the show to Disney instead. The show started production in Fall 1996 and aired the following year. Disney picked the show up and began producing episodes, the first of which was titled "Ziterella", and aired on September 13th, 1997. The show was an immediate hit with audiences. In Early 2000, It was replaced on the One Saturday Morning block with The Weekenders, disappointing thousands of viewers. Soon after, Disney started airing new episodes of the series on their new "Disney's One Too" Block which aired on Weekdays from 3-5 PM and Sunday Mornings from 7-9 AM on UPN. The Show reached its end when it came upon its sixty-fifth episode on November 18th, 2000, Following the "65 Episode Rule" that was in use until That's So Raven Aired, which ended that rule.
Reruns
The Show aired in reruns on UPN for a short time and later moved to the Disney Channel, where it remained until 2002 when It was moved to Toon Disney with several other One Saturday Morning shows. It remained on Toon Disney until November 1st, 2004, when it vanished off the network to make room for the new "Jetix" programming Block. A 2-Hour Marathon aired in early 2007 as a celebration for the show's tenth anniversary, even though it wasn't really ten years old until September of the same year.
The show returned to Disney Channel Portugal on April 11th, 2011, and many think that it may return to Disney Channel US, as animated series usually air in Portugal first.
Links