Teen Beach Movie
Directed by
Jeffrey Hornaday
Produced by
David Buelow
Written by
Vince Marcello
Mark Landry
Robert Horn
Starring
Ross Lynch


Maia Mitchell
Grace Phipps
Garrett Clayton
John DeLuca
Chrissie Fit
Suzanne Cryer
Barry Bostwick

Cinematography
Mark Irwin

Distributed by
Disney Channel Original Movies
Release date(s)
July 19, 2013 (US[1] & CAN[2])
Running time
110 minutes
Country
United States
Language
English
Teen Beach Movie, formerly known as Teen Beach Musical, is a Disney Channel Original Movie. It aired July 19th, 2013, and was the only DCOM to exist within the year.
Synopsis
Surfer girl McKenzie and her boyfriend Brady are having a perfect summer together. McKenzie tries to tell soemthing to Brady but he isn't listening. Brady and Big Poppa are watching Wet Side Stroy a movie from 1962. After explaining the plot it is shown that Brady loves the movie but McKenzie hates it. Suddenly Antoinette, Mack's aunt comes and tells to Brady that  McKenzie has to leave to a school and leave everything behind. When having her last surf a big wave comes. Brady tries to save her or so he thinks. Crushed by the wave they woke up in another beach and during the first song they find out they are in Brady's favorite movie, the classic surf movie musical, Wet Side Story. After the first song they get suddenly to Big Momma with clothes changed on their own. There the surfers have fun until the biker gang named Rodents come. Arguing the bikers do their song and Brady enthusiasticly joins in. After that Tanner caught McKenzie who was about to fall while Lela falls into Brady's arms while she was singing. Then the surfers and bikers don't know what to do. They understand that they messed up the movie as Lela had to fall in Tanner's arms and instead Lela fell love with Brady and Tanner is in love with Mack. They try to make them understand they are not meant to be. Both fail and so they change spots. Brady spends a night relaxing with Tanner while McKenzie spends a night with the bikers girls and spends time with Lela.once again they fail. Going out the tower they find the evil guys and their plan. Later McKenzie hears from Lela about her dream to surf and so Mack tells brady that shes gonna wait the next morning Lelasgonna be at the beach waiting for Brady. She also asks Tanner to go next morning but after seeing the plan of the evil guys at work rushes to find Brady. When they meet they break into a song against their dream.Suddenly the evil guys capture them. Tanner and Lela meet near their and they udnerstand that the evil guys kidnapped their friends and also their plan. They manage to unite bikers and surfers and head to the tower. After a comical battle the evil guys are blasted away and they all return suddenly to the beach. [1]
Cast
Production
"Teen Beach Musical" was written by Vince Marcello and Mark Landry ("Zombie Prom") and Robert Horn ("Sharpay's Fabulous Adventure") and is directed by Jeffrey Hornaday ("Geek Charming," choreographer of "A Chorus Line," "Flashdance") and choreographed by Chris Scott ("Lemonade Mouth"). David Buelow ("Bring It On: Fight to the Finish") is the executive producer and Robert F. Phillips ("Teen Spirit") is the producer. "Teen Beach Musical" is a production of Rainforest Productions, LLC.
Filming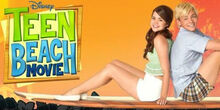 Filming for Teen Beach Musical took place in Puerto Rico. It was filmed in early 2012.
Trivia
For a few weeks, Teen Beach Movie aired on WatchDisneyChannel website and app before it aired on July 19th, 2013.
Teen Beach Movie scored 8.4 million viewers on its premiere date.
The movie came out on DVD on July 19th, the same day it aired.
Goofs
After getting out of the movie, Mack's surfboard was upside-down, but when it cut back to her, it was right side up.
At least three background vehicles in "Wet Side Story," were made after 1962.[2]
References