The Cheetah Girls:One World
Soundtrack by The Cheetah Girls
Released
August 19, 2008
Recorded
2007-2008
Genre
Pop
Length
39:53
Record label
Walt Disney
The Cheetah Girls chronology
The Cheetah Girls: One World is the original motion picture soundtrack to the Disney Channel Original Movie, The Cheetah Girls: One World which was released on August 19 and included 12 tracks. This CD also uses the CDVU+ feature.
The album was released in the UK on December 8th, 2008.
According to The Cheetah Girls some of the songs for this film were made from music that was dropped in the production of their latest studio album, TCG. Adrienne Bailon said on Mi TRL that they were all going to get a solo song in the movie. The Cheetah Girls performed three songs from the movie at the closing ceremonies of the 2008 Disney Channel Games. It debuted at #13 on the Billboard 200 selling 34,000 copies in its first week.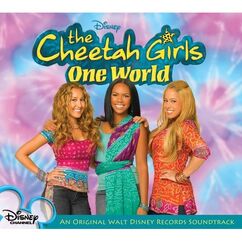 Track Listing