Hey guys! Its Tatertat here! Missed the RDMAs here is a quick recap of what went down!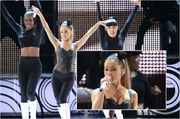 Ariana Grande debuted her newest song Problem on stage, which is amazing by the way. She also was honored with the Radio Disney chart topper award for her songs, The Way, Right There, and others being on top of the Radio Disney charts for weeks. Congrats to her! Especially loved the Minnie Mouse ears!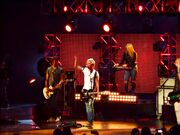 R5
rocked out their newest single,(I Can't) Forgot About You, which was a crowd pleasure as always! Everyone seemed to be rocking in the crowd. Even Ross's
Austin & Ally co
-stars,
Raini Rodriguez
and Laura Marano posted a video of them singing along to Ross part of the song! Check that out
here!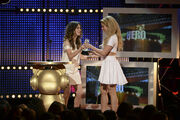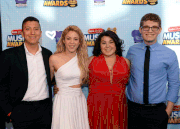 Speaking of
Laura Marano
, she was honored to give out the Radio Disney Hero Award to singer Sharika for her work with helping kids get a better life and education. Sharika also gave out the Heroes for Change Award to three kids who made a difference in their communities, And they encourage everyone help make a change in the world. So inspriring!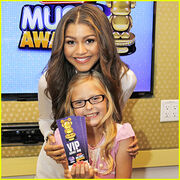 Zendaya
peformed her smash hit, Replay and gave a huge fan of hers the honors of introducing her for the performance! So sweet! Zendaya didnt leave empty handed! She won the You Got Swag Award at this year's RDMAs and it is her first award so congrats to her!
Almost forgot, to give a congrats to R5, who even though lost all three catergories they were nominated in. They were honored with the Show Stopper award for their awesome shows and dedication to their fans, the R5 familly of course! Their younger brother Ryland joined them onstage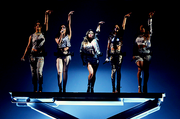 when they were honored with the award. They also had a victory dance backstage introduced by Laura Marano.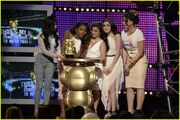 Fifth Harmony peformed a different hit single, Miss Movin On which they rocked out.They started off with their performance with high heights as they were standing high on a platform holding them mid-air. Proving they can rock out in the air and the sky.They also won The Buzz-BreakOut Artist of the Year Award, which they were very happy about! Congrats to them!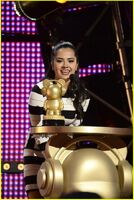 Becky G also hit the stage with the single, Cant Get Enough, which she totally prove she had the swag to rock it out. Not only did she get to perform at her first RDMAs, she won a award! She won The Freshest- Best New Artist! She was so excited and said she plans to put her award in a very special place.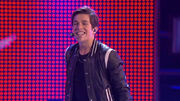 Latest celebrity peformance was Mr. Austin Mahone who performed his newest single Mmm Yeah. He definetely danced his way around the stage during his performance and stole some fans hearts. He sadly didn't win a award, but he was keeping a positive atitude. Awesome job, Austin!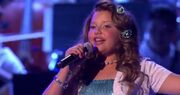 The show was closed out by a amazing peformance of the song, Let It Go, by a fan, Aaliyah Rose! Disney Channel looked many videos and choose her to close out the show with her powerful voice. She did a amazing job and all the stars seem to agree. Dove Cameron (Liv & Maddie) was honored to be able to introduce this girl. And the show ended with many stars going on stage and singing along with her. 
Here is the full winners list! (via Bop & Tiger Beat Online) They're The One — Best Music Group
WINNER: One Direction
He's The One — Best Male Artist
WINNER: Justin Timberlake
She's The One — Best Female Artist
WINNER: Demi Lovato
The Bestest — Song Of The Year
WINNER: "Come & Get It" by Selena Gomez
XOXO — Best Crush Song
WINNER: "Still Into You" by Paramore
So FANtastic — Fiercest Fans
WINNER: Swifties – Taylor Swift
The Buzz — Breakout Artist of the Year
WINNER: Fifth Harmony
The Freshest — Best New Artist
WINNER: Becky G
Musical Mashup — Best Musical Collaboration
WINNER: "Everything Has Changed" by Taylor Swift feat. Ed Sheeran
So Happy — Best Song That Makes You Smile
WINNER: "Ooh La La" by Britney Spears
Cool — Radio Disney's Most Talked About Artist
WINNER: Selena Gomez
Stuck In Our Heads — Catchiest New Song
WINNER: "The Fox (What Does The Fox Say?)" by Ylvis
That's My Jam — Best Song To Rock Out To With Your BFF
WINNER: "Me & My Girls" by Fifth Harmony
Soundtraxx — Favorite Song From a Movie or TV Show
WINNER: "Let It Go" by Idina Menzel (Frozen)
Move! — Best Song to Dance To
WINNER: "Birthday" by Selena Gomez
Hit The Road — Favorite Roadtrip Song
WINNER: "Made in the USA" – Demi Lovato
You've Got Swag! — Artist With the Best Style
WINNER: Zendaya
Radio Disney Chart Topper
WINNER: Ariana Grande
Radio Disney Showstopper
WINNER: R5