Wizards of Waverly Place: The Movie is the 2009 film adaptation of the American television series, Wizards of Waverly Place. The film will be released as a Disney Channel Original Movie August 28, 2009. Production for the movie and filming began on February 15, 2009 in Puerto Rico[3]. The rest of the movie was filmed in New York City, New York[4] and Los Angeles, California.
Plot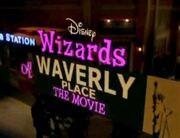 The film follows Alex, Max, Justin, and their parents on a trip to the Caribbean. Alex is upset that her parents are telling her what to do despite being sixteen years old. When her parents confiscate her wand, and she gets in a fight with her mother, she wishes her parents had never even met. This in turn causes her wish to come true, and her parents forget about each other and about Alex, Max, and Justin. Justin knows his father must have his powers since his dad and mom had never met and asks his father, who has no recollection of Justin and just regards him as a random tourist and wizard on what to do about the situation, he tells him that they must find The Stone Of Dreams, a magical stone that can reverse any spell and grant any wish. Justin and Alex then embark on a journey to find The Stone Of Dreams. Meanwhile, Max scrambles to make his parents fall in love again.[5]
Cast
Guest Stars
Trailer
A teaser trailer of the movie was released on Disney Channel June 17, 2009.[6] The full length trailer was released on June 26, 2009.[7]
Music
Main article: Wizards of Waverly Place (soundtrack)
Walt Disney Records will release a soundtrack for the movie on August 4, 2009.[8] The soundtrack will include songs from and inspired by the TV series, songs from the movie, and bonus interviews and music video featuring Selena Gomez.[8][9]
Music Video
A music video for the movie has been released which shows clips from the movie. The song is sung by Selena Gomez and the song will be on the Wizards of Waverly Place soundtrack.
International release
References
External links